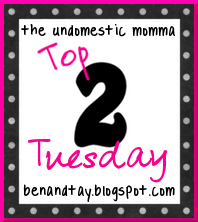 Top 2 favourite baby names!
This is a topic that dh and I often discuss ane very seldom agree on even though we don't have any children yet!
So for now I will just let you know my favourite names:
1. For a girl... I really like the name Gabriella but with HSM I think it may be way to popular now. I also like names ending in "Ella' like Isabella, Bella, etc.
2. For a boy...I really liked the name Aidan(which is my name backwards), or maybe even Hayden.
Cool, go over to Taylor at
the undomestic momma
if you'd like to link up and play along!
XOXO